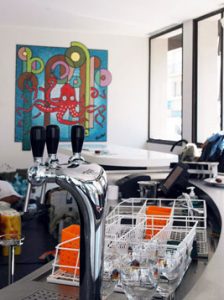 Art Deco or Art Nouveau: nostalgia of a glamorous period and its shimmering decoration.

One example: 1930s mosaic.

Inspired by Isidore Odorico (great mosaic artist from the 30's), the Art Deco mosaic style always captivates by its modernity.

A colourful and geometric, the Art Deco style is welcome everywhere.

In indoor decoration or in historic gardens, Art deco mosaics adorn the basins and decorations on the ground under the pergolas.

Order an Art deco style mosaic as a reminder of this creative period!

Click here to learn more on mosaic creation…
Mosaic: a passion rich in colours and materials!
In the stuc and Mosaic's workshop, the marble or the smalt are in the spotlight.
Marble is a noble material that adapts to all periods and styles.
In a contemporary creation, we will rather look for its shades of polished or irregular formats. The marble is perfect for creating decorative wall panels!
In a more classical creation, with regular tesserae, this material is ideal for the creation of a floor decoration, a kitchen table or a marble bathroom basin.
Creation patterns are endless with this natural material!
The ultra colorful Smalt (Venetian glass paste) offers a very rich palette and is perfectly adapted to the Art deco mosaic. Tesserae can be plane or even irregular. It adapts as much to wall creations as to floorings.
When restoring or recreating an Art Deco-style historic garden:  do not forget to add mosaics!
Delivery of custom-made mosaic artworks in France and abroad.

---
Web services from Cherry on the web:
website creation in English and French,
SEO natural referencing,
web editing in English and French.